Pick & Place robots
YAMAHA's pick & place robot allows high-speed palletizing of small components. The overall width is narrow and the interference with surroundings is small by the moving arm structure so a space saving production line is easily possible. YAMAHA offers a line-up of 6 models from 2 axes to 4 axes depending on the purpose.
High speed
High speed pick & place operation contributes largely to higher productivity. For example YP220BX under operation conditions with a payload of 1kg can achieve a total cycle time of 0.45 seconds.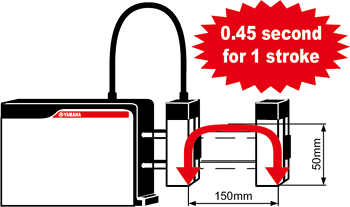 Compact size
With a small width, for example 109 mm (YP220BX), it is possible to make the production line small and simple. The moving arm structure with less interference area in periphery contributes even more to saving space.
Reference example of comparison of robot layouts
The comparison of space occupied by the YP-X series to the small-sized Cartesian robot and SCARA robot allows you to realize the compactness of the YP-X series when they are installed on an assembly line.

High precision
Extremely high-speed performance and high precision of +/-0.02mm (YP320X, YP320XR, YP330X, YP340X) are assured.
Easy Setup
Due to YAMAHA's unique servo system a stop point setting and operation pattern can be programmed easily. The complete absolute position system is standard which eliminates the need for origin return operation.
Downloads